I literally cried when I read this. So, so beautiful. Check out this post by Be Brave: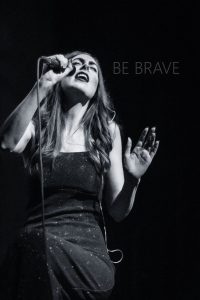 Be Brave Images is at Fox Cabaret.
When ROYAL started her set last weekend at ROYAL and Chersea Album Release Show I was real surprised. In my excitement to see Chersea Music I never even realized there was a following act. And I hadn't done any of my listening homework prior to this show due to rapidly transitioning parts of my life in recent months.
We were getting ready to leave when this powerful, yet fragile figure in a royal red dress appeared center stage. Immediately capturing the attention of every soul in the room. Her presence along with her sincere lyrics and disposition captured my complete attention almost instantly. The lens cap was off of my canon rebel again and I wasn't going anywhere.
Captured some shots throughout the set but I found myself so captivated by her art that my friend and I just stood there and experienced the raw power and emotion that filled her slender frame.
When you're faced with a creature that vulnerable and talented there isn't much else you can really do.
Never stop doing what you love, ROYAL. Follow your inspiration no matter where it takes you and I'm positive that you'll go far.